Shimo Plan Modification
Building a plan modification experience that enhances the trust between enterprise customers and Shimo
Shimo
is a
cloud-based productivity suite
that allows both individual users and large-scale enterprises to easily manage and collaborate on online documents. During my time there, I was responsible for
B2B features related to enterprise management, while also being involved with design for the B2C part of the main site.
Team
1 Designer (me)
1 Product Manager
2 Developers
Scope
User research, interaction design, visual design
Timeframe
April - May 2021
Background
Enterprise users often have the need to modify their current plan with Shimo

Shimo provides three types of enterprise plans which equip users with different levels of capabilities and access to various Shimo services.
When starting an enterprise plan, customers have the option to choose
plan type, number of seats, and length of subsrciption
accordingly.
I designed a unified plan modification experience that empowers user autonomy and reduces reliance on agent involvement.


Problem Overview
Roughly 67% of all enterprise plan modifications, including upgrades and renewals, are done through a sales representative.
There are often times where users needs to modify the existing plan, and they have the option to do so in the admin console, where they can view their current plan and renew, upgrade, or purchase additional seats.

However, as the data indicated, there was a heavy reliance on the involvement of sales representatives to manually modify the plan for our users, which led to a lack of efficiency for both sides, and we wanted to figure out what was causing this.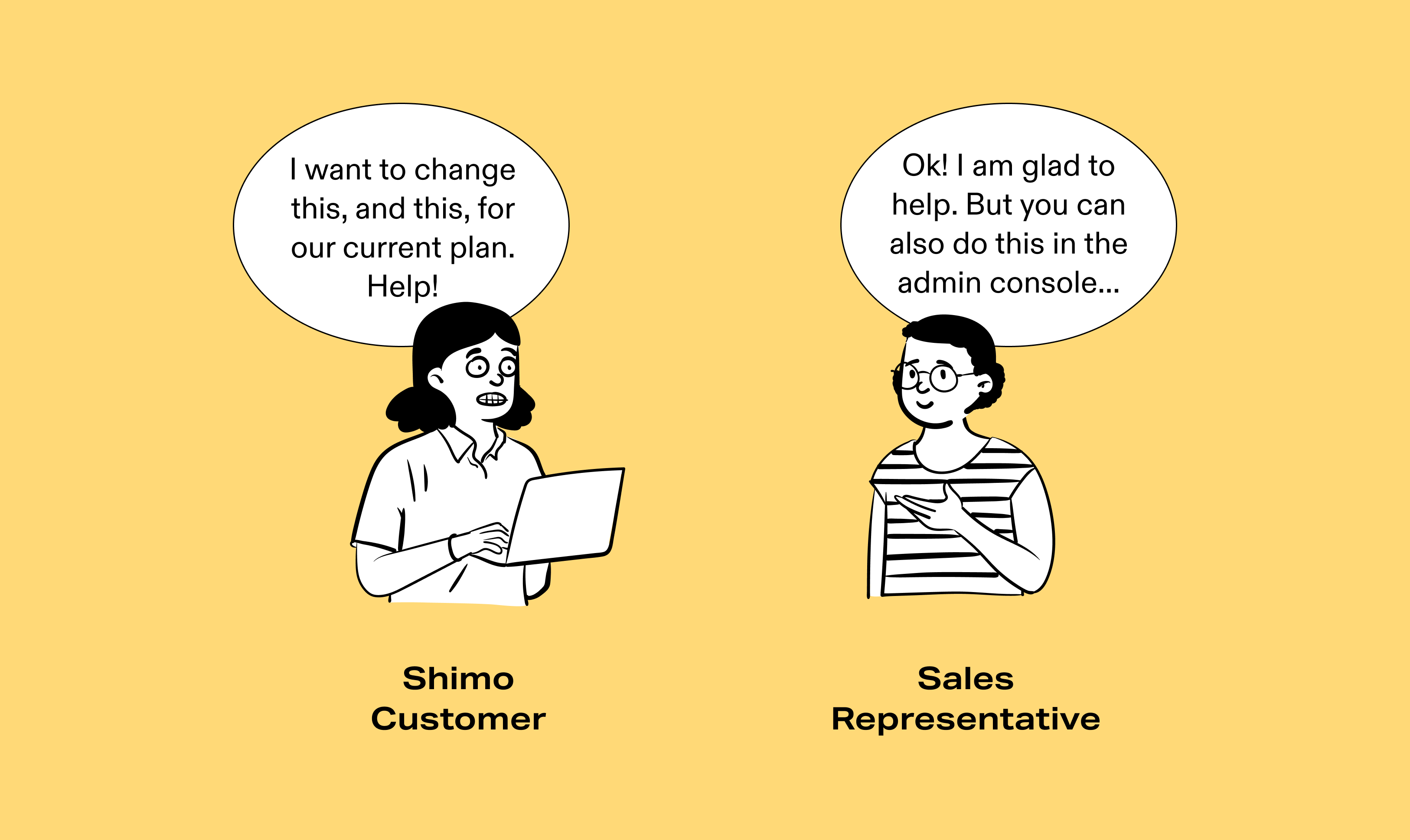 Research
Identifying issues that are deterring users from making plan modifications on their own
🔎️ Design Audit
Mapping out the current flow to identify gaps
As mapped out in the diagram above, there is currently no easy way for users to make multiple modifications at once. Consequently, the payment flow is also structured individually based on each type of modification, and thus lacks coherence and introduces possible redundancy.
💬️ Stakeholder Interviews
Surfacing unmet needs by understanding past customer encounterings
To better understand the goals of our enterprise users, I interviewed three Shimo sales representatives at the forefront of working with our users, and I asked about their experiences helping users modify their enterprise plan. Here are three key findings informed by our conversations:


Design Explorations
How might we create an online modification flow that instills more trust and confidence in enterprise customers' actions?
01
Mapping a new flow to match with user's mental model & unmet need

Based on the previous findings, I started off the design phase by devising a new flow to combine all modification actions into one flow to support the unmet user need of taking multiple actions at once.

02
Explore different visual hierarchy and interaction patterns to balance clarity and flexibility

I spent a lot of time creating and testing different versions with various interaction and visual design patterns, in hope of maintaining enough clarity when merging the three key modification features into one flow, while still giving users the flexibility they needed.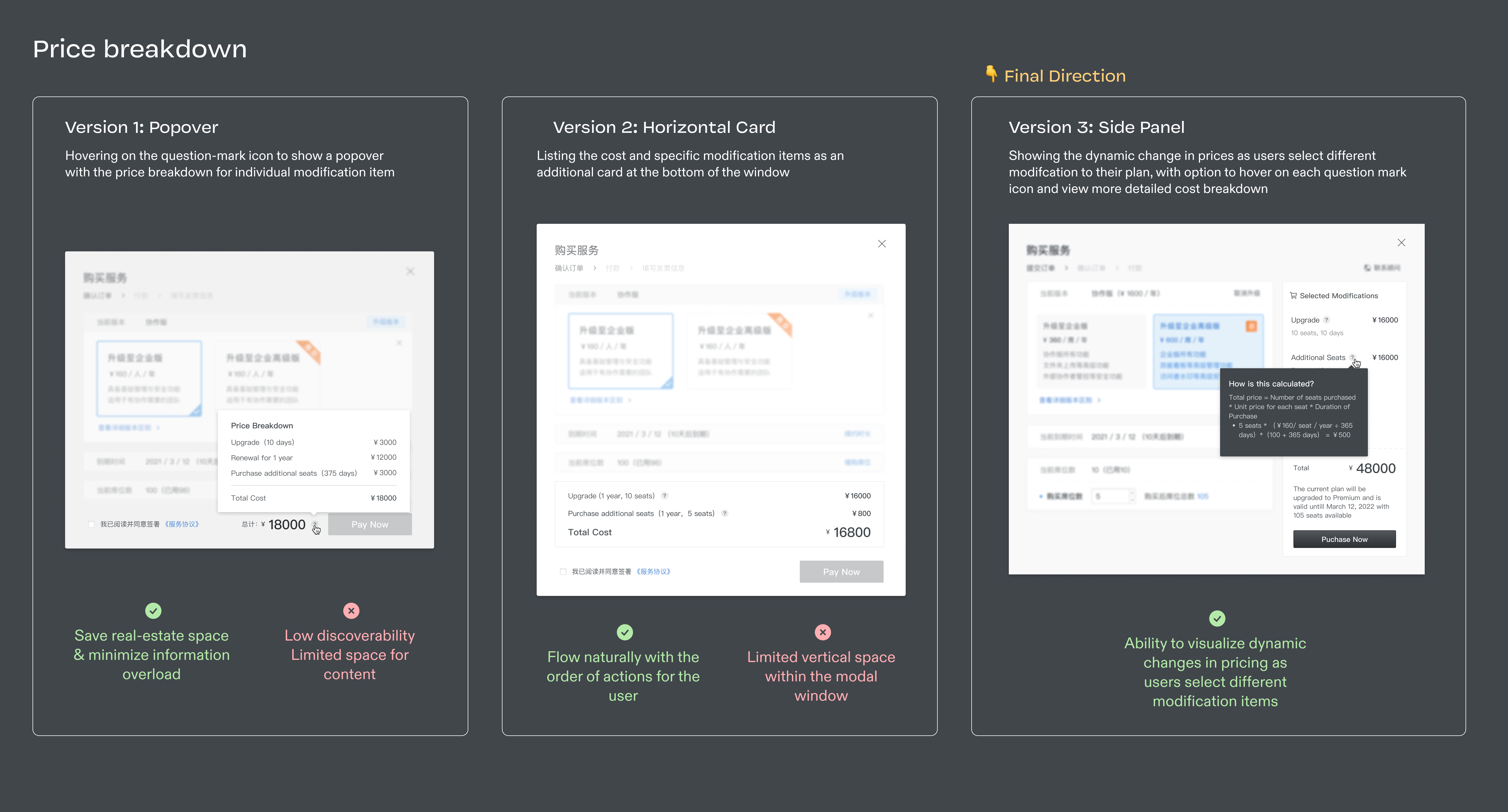 Final Design
a unified plan modification flow that emphasizes integration and transparency
Flexible selection

Using expandable card to provide flexibility and avoid distractions from information that is not as relevant at the given moment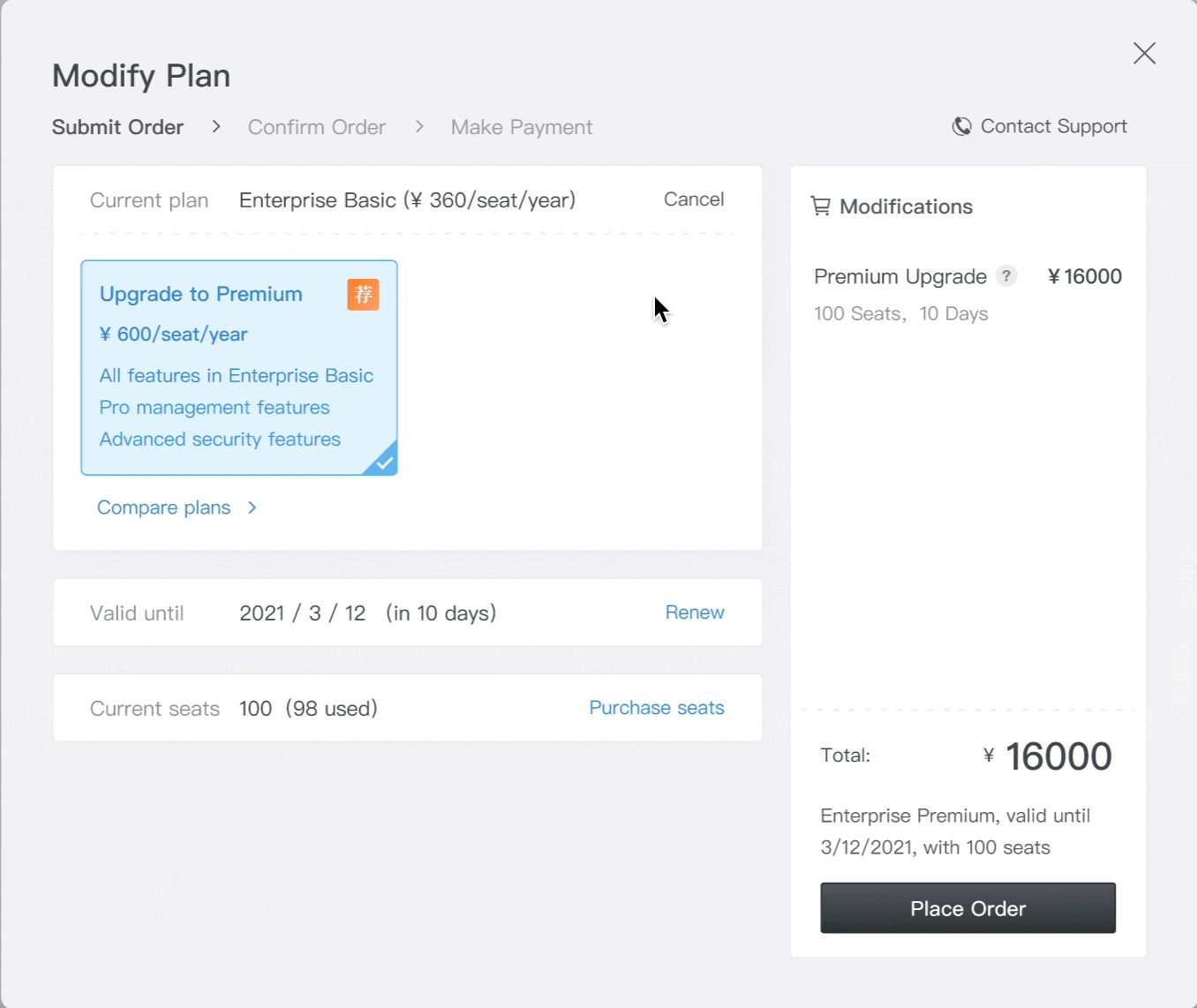 Transparent cost breakdown

Offering detailed explanations on cost breakdown to help users understand cost calculations and make informed decisions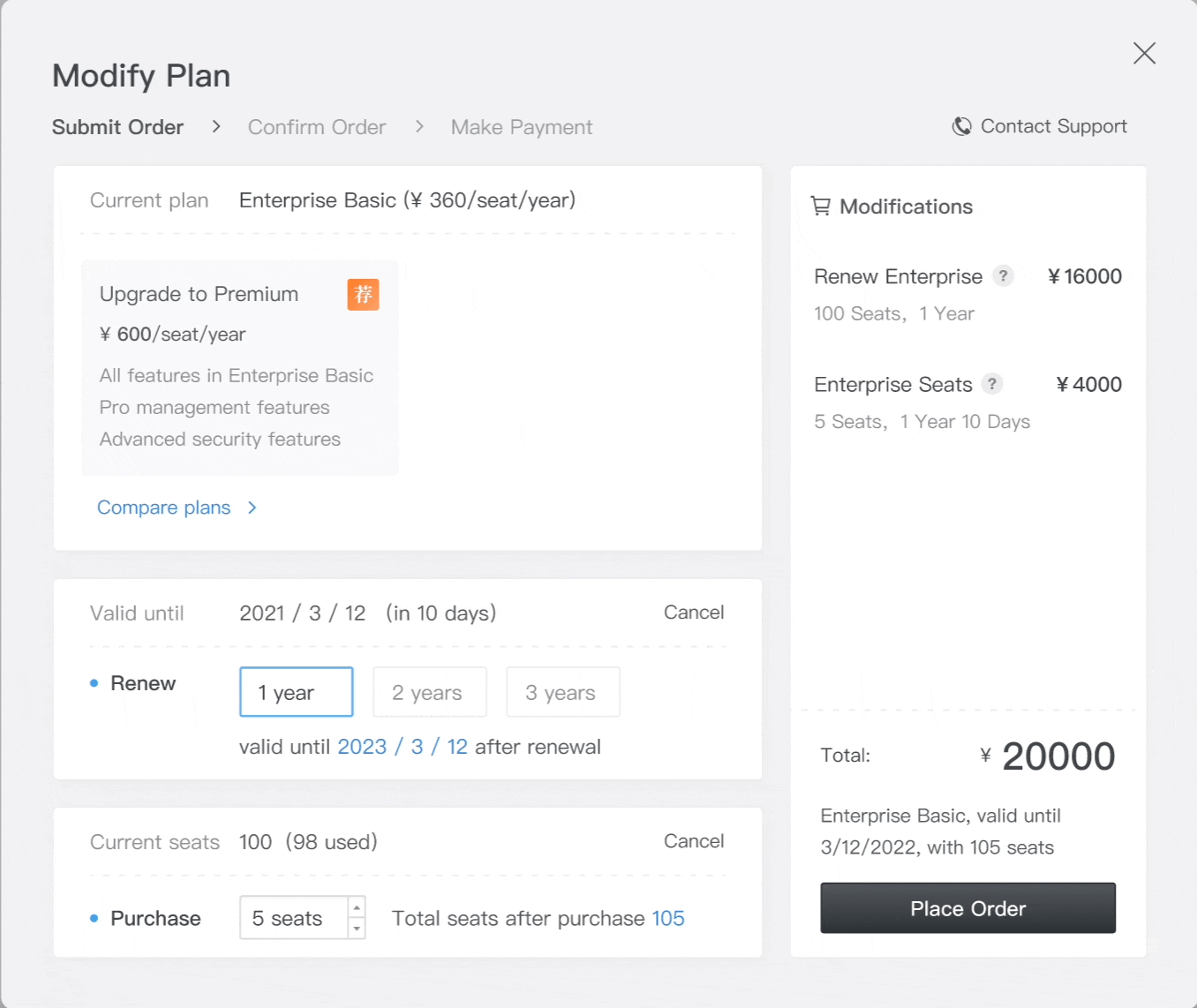 Personalized support

Providing easily accessible support channel to address any potential concerns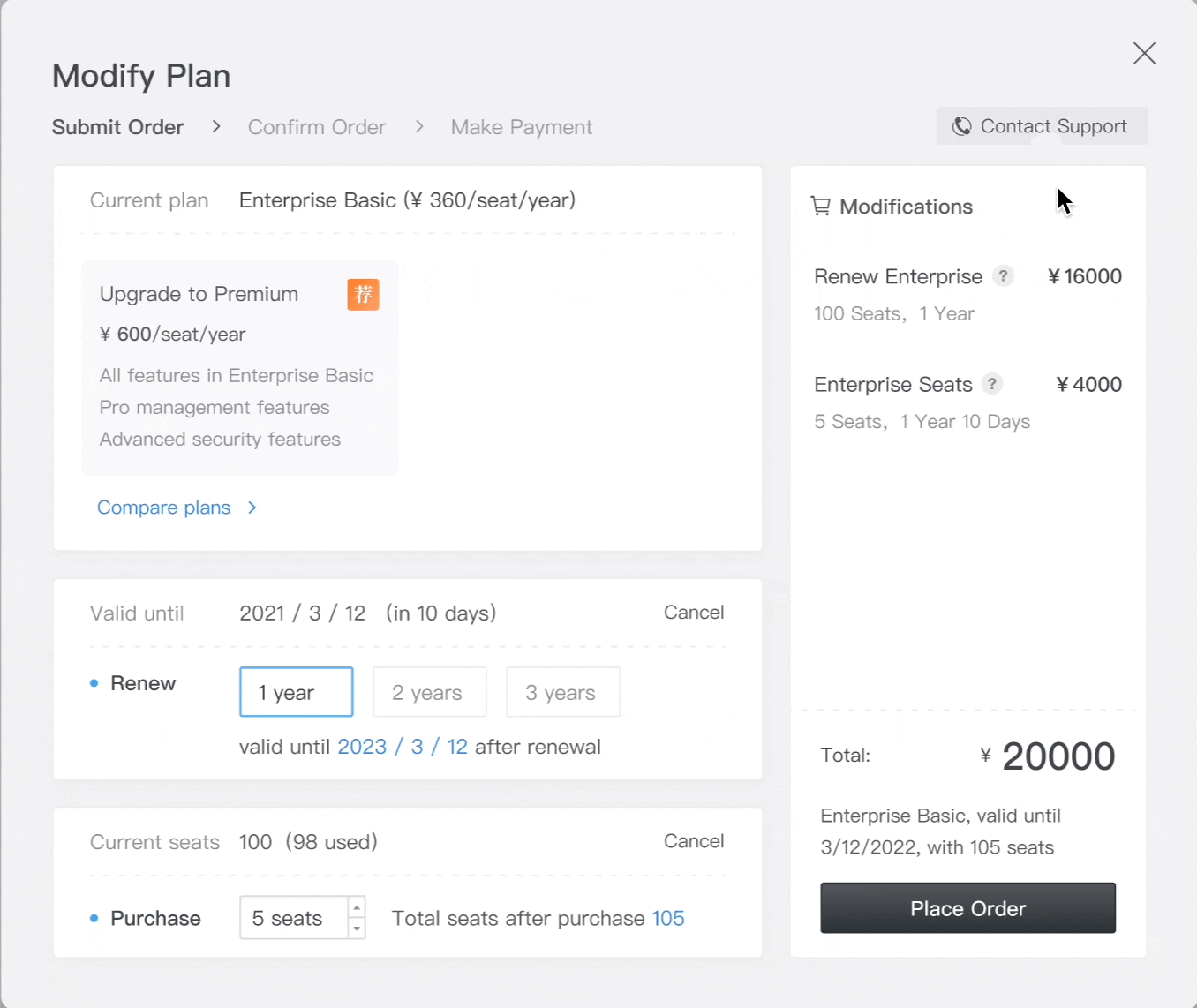 Takeaways...
Engaging in a cross-functional team effort 💪🏻
There were many legacy issues involved in this project, from both product, design, and technical standpoints. Instead of taking these "rules" for granted,
I worked collaboratively with cross-functional teammates and strived to understand and challenge unreasonable constraints to push for a better experience, even when they might not be directly design-related issues.
If you are interested in learning more about other work I did while at Shimo,
check out this page
.